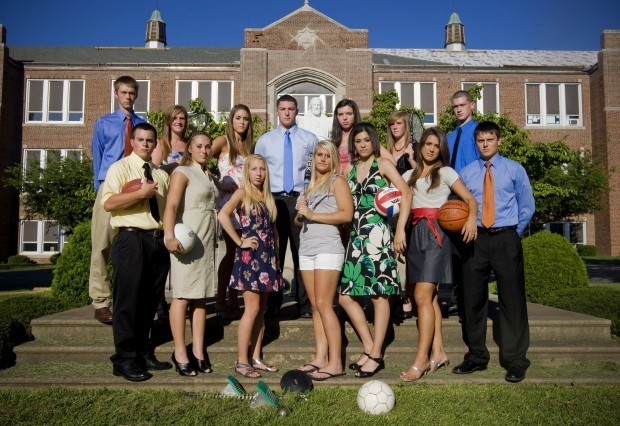 DECATUR – Nov., 6, 2010, is a day that evokes a lot of emotions for St. Teresa athletes and supporters.
Holly Haskins still remembers all the anticipation building toward one of the school's most memorable days in recent history.
"It was crazy," said Haskins, who was a three-sport star for St. T. "We had a lot riding on that day."
In the span of 12 hours, the Bulldogs obliterated the Class A girls cross country field for one of the most impressive state titles ever, barely fell in the second round of the Class 3A football playoffs and pulled out a thrilling super-sectional volleyball match to advance to the Class 2A state finals.
"It was a day I will always remember," St. Teresa volleyball coach Jay McAtee said. "For everything to fit together with the football and volleyball teams to being playing at Tolono, it was awesome."
That one day, along with a third-place finish at tennis state by doubles duo Amy and Tracy Kuhle a couple weeks before, set in motion another stellar athletic season by St. Teresa. By the time June rolled around, St. T had been represented at state in seven sports – including a fourth place in volleyball – and taken home six H&R awards.
All of it garnered St. T the 2010-11 Herald & Review Program of the Year honors – the second straight year the Bulldogs have won the award.
"We set the bar high and that gave the other sports some motivation," cross country runner Ellen Devereux said.
After running the fifth-best time at cross country state and waiting around for her medals, Devereux rushed to the car so she could get to Tolono and catch the football game. Even after a tough 24-20 loss that saw a lead slip away in the four quarter, Devereux and hundreds of other Bulldog fans stuck around to see St. T take on Shelbyville in volleyball.
McAtee's group capped an eventful day in fine fashion.
"We didn't want to end the day on a thud. We didn't want to let anyone else down," McAtee said. "We had an amazing crowd there."
There's no doubt that fall success early in the school year, particularly by the female athletes, created some momentum for the entire school. Cross country coach and new athletic director Todd Vohland said the energy was felt in classrooms and with all athletes.
It's a sense of accountability that St. T's made routine these days.
"That kind of momentum, aura, if you will, feeds into the school as a whole academically and all areas," Vohland said. "Sports shouldn't be the focal point, but in sports, we've heard for years and years that they can add to (academics) and I've seen it.
"I saw it again this fall."
With the buzz of volleyball season stretching well into girls basketball season, St. T struggled early with first-year coach Brianna Morrow. But as the season progressed, so did Haskins and the Bulldogs. A big reason was the group in the gym for Morrow wasn't afraid of hard work and knew what could come from it after the fall success.
While the boys team struggled after losing a superb senior class, the girls brought home a regional title in a 20-10 season.
"Early on, it was difficult," Morrow said. "But we were blessed with great athletes who had been successful. It was really nice having kids that already knew how hard they had to work to win."
It was the only trophy during a slow winter, but St. T got it going again for the spring.
Behind the arms of Jarrett Bednar, Bobby Boyton and Aaron Michel, the baseball team took home another conference title, won 23 games and made the sectional finals before bowing out to eventual state champion Teutopolis.
The softball team turned in a good year, too, playing in a regional final and Raeshel Braden blasting onto the scene.
Built around its distance ability that won the cross country state title, the girls track team turned in a 17th-place finish in Class 1A track and field despite losing four-event standout Katie Landry.
St. Teresa had quite a bit of success in 2011 individually, too.
Daniel Jergens made a splash by making it to the swimming state finals in the 200-yard individual medley and 100 breaststroke; Patrick Kuhle took part in singles at the tennis state finals; and Marcel Murray qualified for the 100-yard dash in track.
The recipe for all the success begins with athletes, especially multi-sport ones because of how small St. T's enrollment is, but involves a lot more.
Vohland said a lot of times coaches like Jim Riebock (softball), Jim Stewart (baseball) and Leo Berger (soccer) get overlooked. Outside of coaching, those coaches spend a lot of time preparing fields and doing the "little things."
"The amount of time that Jim Riebock spends on that softball field … he basically built the thing," Vohland said. "We're very blessed with coaches who care and are willing to do the extra things that go with coaching."
Now, the challenge for St. Teresa once again becomes reloading after losing a loaded senior class. Last year when the Bulldogs took home the honor, they had to replace Haley Fitzgerald, Jayne Godfrey, Cameron Hall, Emily Less, Brennan McElroy, Nick Sanford and Preston Shelley. This year, the challenge will be difficult, too, with losing Eric Althoff, Jarrett Bednar, Braden, Brian Ekiss, Haskins, Katie Landry, Marcel Murray, Jeremy Ruderman and Ryan Smith.
But in 12 years, McAtee's realized St. Teresa always finds a way to get it done.
"I've always been amazed," McAtee said. "I went to a high school with 3-4,000 and year-in and year-out I'm amazed with what St. Teresa is able to put together."
lbridges@herald-review.com|421-6970
 This story and more can be found at Herald-Review.com