Spanning almost 75 years, Rogers' oral history of some 96 American sisters yields a kaleidoscopic picture representing about forty congregations. She "bookends" the interviews with a 1996 prologue and a 2011 epilogue.
A reading of "Habits of Change"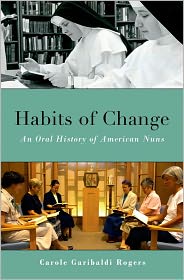 exposes an astounding story of fifty plus continuous and changing years. The sisters' narratives begin in the relative anonymity of their convents, schools and hospitals. In the 1950's a wind of change stirs in Pope Pius XII's calls for the communities to renew, update and educate their Sisters to adapt more to the needs of the modern world. The Sister Formation Movement resulted with colleges and curricula to answer the call. In the next decade, Pope John XXIII and Vatican Council II called the entire Church to update, to attend to social justices issues in the global world. The winds of change were in full force. Again, many sisters updated and answered the challenge.
By the time of the interviews, a more mature group of women are sharing their unique experience in a diverse panorama of backgrounds, personalities, talents and spiritualities! Yet with the bonding of their lives in the American congregations, four essential emerge in brilliant fashion: contemplative prayer, community bonds, commitment to the "under served" and grounding in the Gospel. With these essentials, they journey on, ever serving, made resilient by change, and loving their Church deeply. Now finding themselves in a Vatican investigation to discern the "quality of their lives" and caught in the cross hairs of pre- and post – Vatican theology, theirs is a steady confidence that religious life will continue. what form is unknown.
Reference is made in the prologue to an exhibit traveling in the U.S.A. entitled "Women and the Spirit: Catholic Sisters in America." Sponsored by the Leadership Conference of Women Religious, it records the 300 years of the sisters' service to the American republic since the Ursuline Sisters first landed in New Orleans in 1727.
In "Habits of Change," those interviewed stand on the shoulders of those who went before. They have written the amazing tale of their lives of service. As the author so aptly says in her parting sentence, "Nuns may have put away their chalk and erasers, but they are still teaching."
This is an excellent read for one interested in the personal witness of women religious and how their lives of service are intricately woven into the past and present dynamics of American Catholic Church.
Sister Rosemary Skelley is an Ursuline of the Roman Union. She teaches Theology and chairs the Theology Department at St. Teresa High School in Decatur, Illinois.